According to Inside Higher Ed[1], the Open Education Conference ended in confusion on the goals and definitions of Open Education, resulting in the decision of founder David Wiley to quite as organizer.
Already longer there are discussions on the meaning of the word 'open' in several fields of education, but also over academic disciplines. In education, the European Commission commissioned a study into the different definitions of Open Education, which resulted in a description of ten dimensions of openness determining different kinds of open education. For example, open universities are about open access to formal education, no entry requirements; whereas MOOCs are both free and open.
In management, open –as in open innovation- is about opening up towards the environment. This can concentrate on the single organization: of absorbing knowledge into your own innovation process, selling knowledge which is not directly useful for the own organization. It can also result in collaboration between firms, governments or customers (co-creation), to develop new products, services or business models. However, each variation results in an appropriability regime.
Openness in the public sector, but also in health management, is about transparency, but also about participation of civilians or patients. A concept from these fields is the participation ladder.  Arnstein's [2] "ladder of citizen participation" describes the participation of citizens from manipulation (nonparticipation) to citizen control, in eight different stages. The NHS uses an five stage ladder, from informing to devolving.
The main difference between the open innovation approach versus the participation ladders lies in the involvement of the customer, patient or citizens in the approach. In this sense the present discussion on Open Education resembles Open Innovation, as it stresses the role of the suppliers of education instead of the receivers of it. In "Sustainability of Open Education Through Collaboration (2018)"[3], I analyze several organizational models of OE, including David Wiley's Lumen Learning. The conclusion from this research is that OE will get sustainable dynamics when it is embedded in some kind of community. Either through explicit policies of the organizing organization (MERLOT), or it could be that both senders and receivers of the OE are within the same community. In a reaction to my presentation of my results, OE providers told me that they had developed open courses for wildlife preservation, which were put into the hands of the national conservation clubs. IN such a case, the open education will be used, revised and kept alive. The reason firms like Lumen in the USA and Humuork in Spain are successful indicates that it is not evident for schools and firms how to translate open materials into useful courses.
In this sense, Open Education can learn a lot from the participation ladders.  If we take the engagement ladder of the NHS[4], this consists of five stages: Informing, Consulting, Involving, collaborating and devolving. To be(come) relevant to groups of learners, developers of Open Education should at least consult the targeted learners about their wishes and needs. It will be better when individual learners and their communities are involved in the development of courses and programs. It would be interesting to make a study of different Open Education projects to see if and in which amount users are informed or devolved in the design and development of the materials.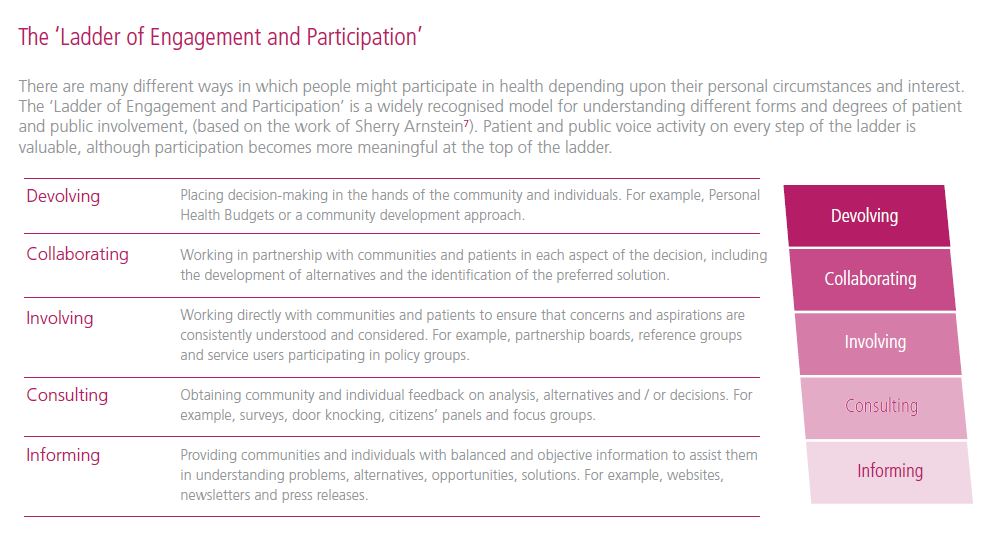 Returning to Arnstein who in 2019[5] remarks that (1) participation equals power: it is the means by which they can induce significant social reform which enables them to share in the benefits of the affluent society"(p. 24); (2) describes the two nonparticipant phases as educating the citizens and therapy: "curing them of their "pathology" rather than changing the racism and victimization that create their pathologies" (p. 27). The participant phases end in citizens control: "People are simply demanding that degree of power (or control) which guarantees that participants or residents can govern a program or an institution, be in full charge of policy and managerial aspects, and be able to negotiate the conditions under which "outsiders" may change them"(p. 33).
In (formal) programs, faculty, committees and administrators know what students have to learn to pass exams and acquire a degree. For some groups of students and for most of the initial degrees this seems to be an adequate way: you may not like statistics, but you'll need them later on. In commercial programs, and some skill oriented programs learners and groups like employers have influence in the program designed by the professionals. In communities which were professionals educate each other, learners are really involved and power is shared within the community. In Open Education, based on the case studies in de Langen (2018), we see Information and Manipulation return in the MOOC-platforms; Consulting ,Involving in commercial programs as SPOCS, and intermediary firms as Lumen. In communities as FemTechNet and MERLOT I, we see the higher phases as Delegation and Collaboration.
For a continues sustainability and improvement of Open Education it would be necessary to involve the learners, the users of the educational materials. It should be interested to develop a participation ladder of education as the existing ladders are sector specific, to test this proposition, This can be used to study the involvement (or the stage) of the different users (learners and other stakeholders) of Open Education.
Notes:
[1] https://www.insidehighered.com/digital-learning/article/2019/11/06/david-wiley-steps-down-and-adjourns-open-education-conference
[2] R. Arnstein  "A Ladder of Citizen Participation," Journal of the American Planning Association, Vol. 35, No. 4, July 1969, pp. 216-224
[3] http://www.irrodl.org/index.php/irrodl/article/view/3548
[4] https://www.england.nhs.uk/wp-content/uploads/2014/03/bs-guide-plann-part1.pdf
[5] Sherry R. Arnstein (2019) A Ladder of Citizen Participation, Journal of the
American Planning Association, 85:1, 24-34, DOI: 10.1080/01944363.2018.1559388